Browsing with QR codes
Typing URL addresses on mobile phones is not a pleasant or easy task. Not even on iPhone or other touchsmart devices.
If you have an URL like m.my.com, then you and your visitors are happy. But what if you have a longer URL? Would your customers stay for 2 minutes in front of a billboard to write down that URL? Maybe not. But there's a faster, yet very simple way to do it. And everything will become a matter of about two clicks for your visitors.
The solution is named QR codes, a type of 2D barcodes.
The process is very simple: you generate the QR codes, put them on your advertising materials (banners, billboards, print ads, even TV ads) and then your visitors will scan them and be redirected to your website. So you will need QR codes generators and your customers will need QR codes readers installed on their mobiles.
QR codes content
But first of all what can you encode in these codes? Of course, text and of course links. And not only links to web pages, but links to phone calls, SMSes etc.
QR codes generators
Here everything is reduced to the creation of an image. There are different software applications to generate QR codes, but I would prefer the online ones. There you can specify the URL, optionally the image size and you get the image. Also you get image generated URL for future use. Maybe you want to include it in your website, let's say for downloadable coupons.
Besides URLs, you can generate phone numbers, email addresses, VCards, texts etc.
QR codes mobile readers
Usually the mobile code reader applications can be downloaded on your computer, through SMS or by directly visiting the website with your mobile.
For Android
Barcode Scanner (alias ZXing) or search for one in Android Market.
For iPhone
To find a QR code reader it's pretty easy. Just start the iTunes, go to the iTunes store and search for QR code or barcode. You will see quite a few results. I tried
Barcode from Stefan Hafeneger which can scan QR and DataMatrix codes and open the URLs in Safari, email addresses in mail application, send content via email, save phone numbers in the contacts.
Barcodes from the ZXing project. It is open source in case you're interested and it has versions for other mobile platforms as well.
For Symbian S60
You have the following options here:
Kaywa Reader – I have a Nokia N95 and this one worked just fine. It requires a two steps registration: a form on their website and confirmation of a valid email address. After downloading and installing the application, you don't even have to take the snapshot, just point the phone camera on the code and the URL will be recognized and you will be asked if you want to open the URL in the browser.

NeoReader – No registration is required, but you can download it only from your phone from get.neoreader.com. Your mobile will be automatically recognized and you can download and install the application. Remember to turn on auto focus from the settings (disabled by default).

On some newer Nokia phones (I tested on Nokia E71) a barcode scanner application is included by default. If you use a Nokia E71, just go to Menu / Tools / Barcode and select Scan code. As soon as you point your phone to a barcode it is automatically recognized.
For Java phones
I also tried on my Nokia a Java(J2ME) barcode reader: ZXing. The problem there was the lack of autofocus for snapshots taken and, as a consequence, no barcodes were recognized. This project is open source if you're interested in how it is done.
Another Java barcode reader is Okotag, the successor of Snap'A'Bar from Jaxo Systems. Just choose Nokia N93 for N95, but there is the same problem with the autofocus.
For Windows Mobile phones
I tested QuickMark on a HTC Touch HD. It requires two steps registration (website form and email confirmation) and then you are able to download the version needed for your phone. Besides QR, it also automatically recognizes DataMatrix, EAN8, EAN13.
In the end a nice QR to visit! 🙂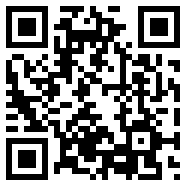 Last update: May 4th, 2011.